Why should the kids have all the fun this summer??
Join us for one or as many evenings as you can of Summer Camp!! Complete a project each class that has a summer camp vibe. Bring your creativity and a sense of fun and leave with a project worth writing home about.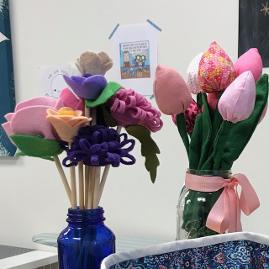 Fabric Flower Bouquet 8/18
If you have never taken a sewing machine class at Stitchery before, an introductory private lesson is mandatory before joining a class (private lessons are $40/hour and can be scheduled at your convenience). Pom Pom class does not require sewing experience. Open to anyone age 16+. There must be 2 students enrolled for a class section to run, so tell your friends who would like to go to camp with you!