Timna Tarr
Saturday March 3rd
10-4pm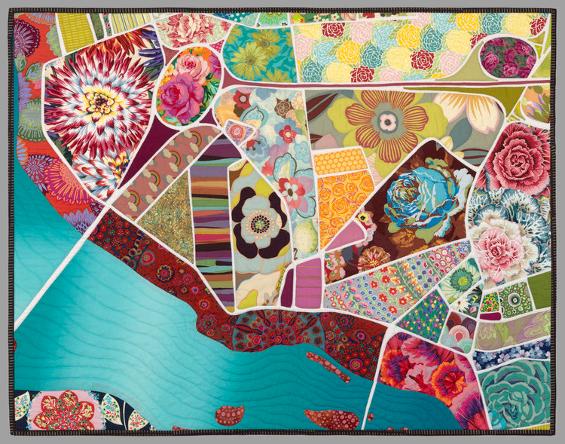 Map Quilt Improv
Mapmaking in Fabrics
Use fabric to capture a special location. Maybe it's your favorite vacation spot, or your neighborhood, or your hometown. Over the course of the workshop, participants learn both pattern-making and improvisational quilting techniques to create personal map quilts. Bring a large paper map of a location you would like to replicate (approx. 24"x36"), your favorite fabrics and threads, and a willingness to experiment. Mark your place in the world!
SUPPLY LIST
Since this class is improvisational and everyone is working from a different map, I have not included specific amounts of fabric, fusible etc. Use your best judgment as to what you think you may need. Timna will have fusible, freezer paper and a few other supplies for sale if you need to purchase them.
Remember that this is an improv class, so come ready to experiment and we will make whatever you have with you work!
- Paper map of a location important to you. Have the map enlarged at a copy shop to approximately 24"x36".
- We have machines for use but please feel free to bring your own.
- Basic sewing supplies.
- One yard of good quality white fabric for background.
- Assorted fabrics to use for map features (water, roads, landscape etc.)
- Neutral colored threads, or threads that generally match your fabrics
- Freezer paper
- Double sided, paper-backed fusible, such as Heat and Bond, Steam-a-Seam, or Wunder Under
- Water-soluble blue marker
- Pencil
- Black Sharpie
- Glue stick
- Paper scissors
- Clear tape
- Silicone pressing sheet, if you have one