Private lessons
Please email Karen directly if you would like to schedule private lessons.
Drawstring Project Bag
Thursday October 10,
6:30-8pm
$35
Sew your very own knitting project bag. This lined drawstring pouch makes a beautiful, reusable gift bag as well. Bring your own fabric (1/2 yard of two coordinating woven fabrics--email me with questions), or I will have several options from which to choose. Beginner-friendly class.
Thursday October 17
6:30-8:30pm
Sew a Pet Leash
$35
Sew a fun patchwork leash for your pet, plus a waste baggie holder that easily clips to it. All materials are provided for this beginner-friendly class.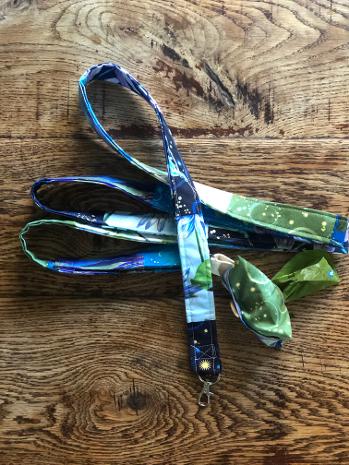 Sat October 19 ,
9-10am
Intro to Machine Sewing
$25
Learn everything you need to know to safely and confidently use a sewing machine in this introductory class. All materials will be provided to make a simple project. No experience or machine necessary, use one of our 8 in-house Brother sewing machines. All principles learned in class will apply to any make/model machine that you may have at home. Completion of this class qualifies you to sign up and attend any Stitchery sewing class on the schedule.
SEWING QUICKIES
Don't have the time for a 3 hour class to make an entire project when you just want to learn a specific skill?
Quick skills monthly classes are just the thing!
In 60 minutes, a sewing skill will be explained and demonstrated. You will have time to practice the skill several times with an expert standing by to help and answer questions. Go home with a Stitchery handout, your class examples, and a newly-honed sewing skill.
Machine Pre-requesite: Must have previously attended a Sewing 101 class. Please schedule one ($35 for a one-hour session scheduled at your convenience), or have a brief eval with Karen to demonstrate mastery of independent and safe sewing skills.
Stitchery requires notification 24hrs prior to class start time if you cannot attend. Cancellations prior to 24hrs will be offered a full refund or store credit. No refunds can be offered on cancellations within 24hrs of class start time. This policy is for regular scheduled stitchery classes. Special events, guest and multi session workshops cancellation policies will be posted separately .