Private lessons
Please email Karen directly if you would like to schedule private lessons.
Snappy Pouch
Thursday, September 19
6:30-8pm
$35
Make a pouch that cleverly closes automatically using a metal tape measure (yes, a tape measure!). Learn how to safely upcycle something from your tool box to sew your new favorite bag. Perfect for knitting notions and to give as a gift. All materials included, suitable for beginners and experienced sewists alike.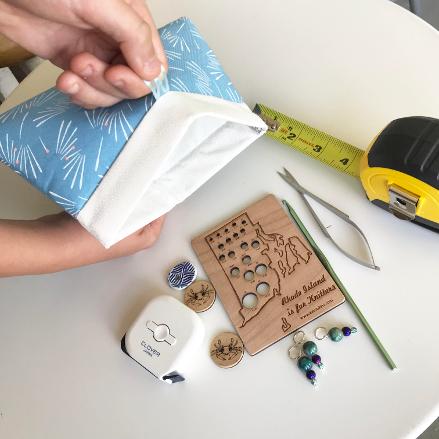 SEWING QUICKIES
Don't have the time for a 3 hour class to make an entire project when you just want to learn a specific skill?
Quick skills monthly classes are just the thing!
In 60 minutes, a sewing skill will be explained and demonstrated. You will have time to practice the skill several times with an expert standing by to help and answer questions. Go home with a Stitchery handout, your class examples, and a newly-honed sewing skill.
Sept 12–hemming
Oct 22-zippers
Nov 7–gathers
Dec 17–appliqué
$25, all materials included
Machine Pre-requesite: Must have previously attended a Sewing 101 class. Please schedule one ($35 for a one-hour session scheduled at your convenience), or have a brief eval with Karen to demonstrate mastery of independent and safe sewing skills.
Stitchery requires notification 24hrs prior to class start time if you cannot attend. Cancellations prior to 24hrs will be offered a full refund or store credit. No refunds can be offered on cancellations within 24hrs of class start time. This policy is for regular scheduled stitchery classes. Special events, guest and multi session workshops cancellation policies will be posted separately .