Private lessons
Please email Karen directly if you would like to schedule private lessons.
Adult sewing classes
Thursdays 6:30-8pm
$32 per class
June 28--Beach Tote
August 9--Appliqued Terrycloth Baby Bib $32
August 22--Reusable Snack Baggies $32
All materials provided.
Bring your sewing machine or use one of ours.
Machine Pre-requesite: Must have previously attended a Sewing 101 class. Please schedule one ($35 for a one-hour session scheduled at your convenience), or have a brief eval with Karen to demonstrate mastery of independent and safe sewing skills.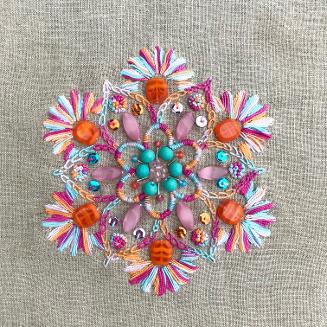 Embroidery
Mandala Embroidery--Easy Summer Stitching
Wednesday or Thursday (different dates) 6:30-8pm
Thursday July 5
Wednesday July 11
Wednesday July 25
Thursday August 23
Mandala Embroidery--Easy Summer Stitching
$25 per class + $30 materials fee
In this summer embroidery series, learn a new image transfer technique, several new stitches, work with beads and sequins to create a gorgeous mandala. Choose your color palette which includes the yummy Sue Spargo variegated thread we worked with during the Feather Embroidery sampler. Casual class format, no pressure to attend all sessions--sign up for one, two, or all four sessions. The project can be completed with whatever stitches you learn in one or all four classes. No prior experience necessary. Your finished work will be a stunning piece of hoop art!
Ages 18+
Frequent Sewing card
Purchase 4 *adult sewing classes for $100, thats a savings of $28!! Register here
Registration for class must occur 1 week+ before desired class
*Applicable only for Thursday Night Adult machine sewing. If you wish to use credit towards another class the full dollar amount will be deducted
Stitchery requires notification 24hrs prior to class start time if you cannot attend. Cancellations prior to 24hrs will be offered a full refund or store credit. No refunds can be offered on cancellations within 24hrs of class start time. This policy is for regular scheduled stitchery classes. Special events, guest and multi session workshops cancellation policies will be posted separately .