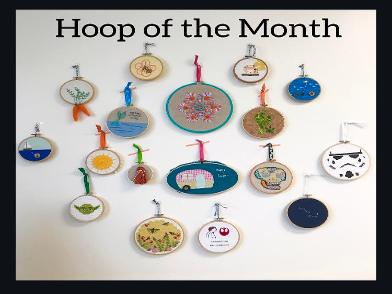 Rug Hooking
Sunday Aug 27th 9-4pm
With Beth Miller
$95
( plus $40 materials fee paid directly to instructor)
Heritage Art for the Modern Maker: North American Rug Hooking
Rug hooking is rooted in 19th century New England and the Canadian Maritimes, but our ancestors in craft created an art form and technique adaptable to any era. This class is about learning the heritage craft of rug hooking in a way that remains true to a sound foundation of technique while strongly encouraging contemporary aesthetic exploration in color, materials, and design.
Because this class is meant to be accessible to beginners, a small pattern created with "learning opportunities" in the design will be provided. These will be finished into scented warmable/coolable buckwheat pillows (choice of buckwheat seeds with lavender, lemongrass, or orange cinnamon essential oils ).
You will learn the basic technique of hooking and then the finishing process, including serging, steaming, and binding (in this case, stitching on the pillow back, but it's the same stitch as rug binding). Also covered will be a short history of rug hooking, how to select materials, and if time allows, how to draw your own pattern on the grain.
Patterns will be hand drawn on the grain and ready to hook on high quality primitive linen with serged edges
Beth will provide a variety of quality hooking wools, both "as is" types in textured fabrics (stripes, plaids, et al) and some of her own fun hand dyed wools. Additionally, sari silks, yarns, curly locks, roving, ribbon, and a variety of other alternative materials and embellishments (buttons and beads for example) will be provided.
A beginner hook will be included as part of the kit and Beth will have a variety of other hooks to try and purchase if desired.
A beginner rug hooking frame and flannel cover will be provided that students may borrow for the duration of the class. Frames and frame covers will also be available for purchase at the end of class.
Please bring:
A small pair of scissors - embroidery scissors are perfect

A small container or pocket for holding your "snips" or scraps that are trimmed while hooking

Your creativity and imagination!
Kit fee (includes pattern, hook, wool, needle, thread, pillow insert & backing material): $40
She is also a Registered Maine Gu